https://www.visitathensga.com/blog/post/give-a-piece-of-athens/
Shop local this holiday season and give Athens gifts as part of a Georgia Made Georgia Grown holiday! Athens is home to a long list of locally-owned businesses that offer a variety of unique and locally-made items and experiences. Even Expedia named Athens as one of the Best American towns for Holiday Shopping!
Here is a list of some of my favorite Athens shops to find holiday gifts for friends, family, and everyone in between! While you're in Athens this holiday season, be sure to visit these wonderful shops and take home a piece of Athens for the special people in your life!
GIFTS FOR MOM
Andree's Essential Soaps: Stop by Andree's on South Milledge Ave. and pick up naturally made soaps, bubble oil bombs, candles, and lotions. All are made right in the basement of the shop. Andree has a line of products she developed for cancer patients and others who have special needs for skin care and moisturizing without chemical additives. Featured in the gift bags for the International Emmy awards, Andree's has gained popularity among celebrities worldwide.
Urban Sanctuary: Moms work hard, so give them the gift of relaxation this holiday season. Urban Sanctuary offers a variety of services including massages, nails, facials, waxing, makeup, and more. Treat yourself and your mom as part of your visit, and gift her with a certificate to return!
Aurum: Aurum, a jewelry and art gallery downtown is the perfect place to find that unique piece for your jewelry-loving mom. Aurum's prize-winning artists will even craft jewelry per your request and specifications. Pop into what is known to be "the finest display of artwork in North Georgia" and pick out something one-of-a-kind for your mom this season.
State Botanical Garden of Georgia: We are so lucky to have the State Botanical Garden right here in Athens, so share that gift with mom. The gift shop is full of beautiful plants to bring home, a variety of books, and branded souvenir items that might make your mom want to come to see the State Botanical Garden of Georgia herself. The gift shop offers a great selection of local products, including honey made from beehives kept right on the grounds, stationary, jewelry, and artwork from local artists. Seriously, this is one of Athens' best-kept secrets!
Athens Welcome Center Gift Shop: For an easy one-stop shop for anything Athens, head to the Athens Welcome Center Gift Shop. They have plenty of local merchandise including t-shirts, jams, jellies, postcards, and artworks from local artisans, plus a knowledgeable staff to make sure you don't miss a thing around town.
Bear Hug Honey Company: If you haven't already, head over to Bear Hug Honey, an amazing addition to Downtown Athens. Full of all things honey, you are sure to find something that your mom would like here. From soaps to chapsticks, to candles, to jars upon jars of fresh honey – you can find just about anything for just about anyone. Best of all, owner and UGA graduate Sam Johnson works closely with local beekeepers to keep his artisan shop stocked with only the most authentic honey products.
Pearl Girls: This unique shop is Athens based, owned and operated by women. They specialize in designing jewelry that connects people to their souls for women of all ages. They also can repair jewelry as well.
GIFTS FOR DAD
Clocked!: Clocked! is a great place in downtown Athens where locals swear to have the best burgers in town with clever flavor combinations such as the Blackberry Bacon Jam Burger, the Roasted Garlic Cheeseburger, and the Bayou Burger. Swing by and pick up a gift card so that you can have your dad join you in Athens for a great meal.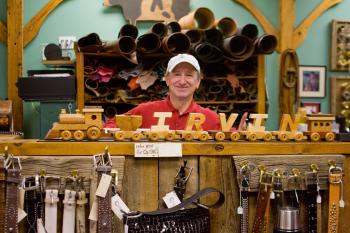 Masada Leather: For those with dads that love quality leather, Masada is the place for you. Owner Irvin Alhadeff is one of the few craftsmen in America who still creates handmade sandals.  He also crafts great pieces including belts and wallets. Masada Leather has a great selection of outdoor gear as well. Not just for men, find the perfect leather bag and jewelry for yourself while you are there!
Local Breweries: Athens, GA is home to multiple breweries. Bring your dad to Athens and take the Beer Trolley to follow the Athens beer trail! Experience six of the best breweries in Georgia all in one trip to Athens. Wrap up a tee, a stein, or other gear for under the tree along with an invitation to journey down the trail!
Local Coffee: For the most part, my dad is always on the go. There is nothing he loves more than a great cup of coffee in the morning to get his day started. For your on-the-go dad, treat him by grabbing him a gift card to local coffee brewers Jittery Joe's or 1000 Faces Coffee so that he has access to the best coffee in town. For those who like to enjoy their coffee at home, bring home a bag of his favorite blend.
Big Dogs on the River: Give your dad an excuse to head to Athens right when the weather warms up, and enjoy Athens' natural beauty with a three-hour kayak trip. Big Dogs is open Monday through Saturday for walk-ins and Sunday for large groups. The price includes a shuttle and all equipment necessary for a fun day on the river. This trip is a relatively easy ride, great for beginners or experienced kayakers. 
Active Climbing: For those dads that need a burst of adrenaline, Active Climbing is an adventure he will never forget. This indoor rock climbing facility boasts spectacular boulders that are 20 feet high with textures and forms that will blow you away, and terrain you'll find at pro comps. The facilities also feature 20-feet tall roped walls (lead and top rope), a 40-foot-long roof traverse, padding with lots of crush pads, more than enough to cure you from being afraid of falling! They offer passes by the hour, day, month, or year, so this is the perfect gift for beginners and experts alike.
Bedlam Werks:This local Athens shop creates handcrafted and custom motorcycles and motorcycle parts to create works of art. So if anyone has a dad that's always dreamt of owning his own motorcycle, look no further.
GIFTS FOR THE FASHIONISTA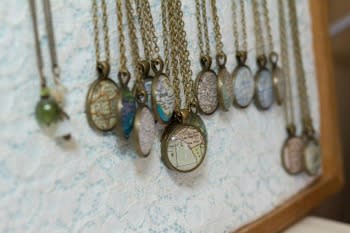 Community: Community is a small boutique located on Jackson Street that sells a variety of vintage clothes, shoes, and accessories. They are very eco-friendly, but without sacrificing style. For those interested in fashion themselves, Community offers classes that teach sewing and knitting.
Red Dress Boutique: The Red Dress Boutique started in Athens, GA, and has grown wildly in popularity as one of the success stories of the hit television show Shark Tank. They have all different types of clothing for year-round wear at modest prices and are located on East Washington Street.
Heery's: Calling Athens home since 1959 is none other than Heery's, Athens' signature high-end retail store where you can find brands such as Tibi, BCBG, Tory Burch, Rebecca Taylor, and many more. You can't go wrong at Heery's for the fashion-obsessed one in your life.
Metal + Petal: A modern and eclectic full-service design firm owned and operated by husband and wife duo Graham and Jade Joyner, Metal + Petal is the perfect place to choose a beautiful home accessory or a special gift for the one who loves to bring beauty to their home and life, without breaking the bank.
BMA at Home: Owned by local interior designer Breckyn Alexander, BMA at Home showcases designs personally curated by Alexander and offers the finest in a boutique setting. Stop in and browse all that BMA has to offer and maybe pick out a gift card for the one who has probably been wishing to have a reason to browse BMA and add some swank to their home.
Epiphany: If you want to give in more ways than one this season, stop by Epiphany's spacious storefront to find boho-chic clothing, unique gifts, and charming home goods. Every purchase at Epiphany benefits the poor and underserved in Athens and around the world.
GIFTS FOR THE FOODIE
Shiraz Athens: For the wine lover, grab a gift card to Shiraz to give an evening of great wines and specialty food. They have over 600 wines at all price ranges, a wide array of food items, and a beautiful selection of wine and food-related accessories.
FIVE Bar: Boasting some of the best dinners and brunch in town, FIVE Bar is sure to please the foodie of any type. With a full bar in addition to the popular sushi bar, the foodie will be thanking you for a while.
The Place: Serving up possibly the most diverse Southern cuisine you can find, the gift of an experience at The Place is a must. With classic cocktails, local brews, Buttermilk Chicken, and Shrimp & Grits, just to name a few, this family-owned restaurant is sure to please foodies of all kinds.
Condor Chocolates: Located in Five Points and downtown, this is Athens' first specialty chocolate shop. Owned and operated by two brothers, their mother's Ecuadorian heritage inspires their chocolate creations. They've been featured in Cande Naste Traveler and AAA Living as the perfect place to get a sweet taste of Georgia.
Farmers Markets: Find the freshest tasting local goodies, at any number of the farmer's markets around Athens. The Athens area hosts a variety of local markets monthly and even weekly that carry everything from local produce to hand-made crafts and jewelry.
The Lark: What's a better gift than a bottle of wine? Come shop in-store or online for a variety of responsibly made wines. Better yet, bring your wine lover in for a tasting and let them pick out their favorite bottle to bring home!
GIFTS FOR THE MUSIC FAN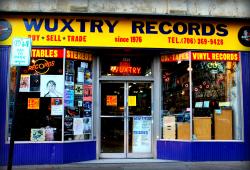 Wuxtry Records-Athens: For those who know the music history of Athens, Wuxtry Records is a perfect place to pick up vintage and recent records. Wuxtry Records is known for its extensive vinyl and used CD collection. A favorite among local bands and musicians still today, you never know who you will be rubbing elbows with. For the R.E.M. lover: this is where the band first met.  
Musician's Warehouse: Musician's Warehouse has been in business for over 16 years and has the inventory and experience to get you what you need at a reasonable price. Stop in to talk music and pick up that new guitar or drum set you've been eyeing!
Nucci's Space: Support a good cause by supporting this Athens organization dedicated to providing mental health services for musicians in Athens. You can participate in their youth programs, book your musician a recording booth for a reasonable price, or you can simply check out their merch table. 
Concert Tickets: The city of Athens is full of great music venues including the Georgia Theatre and the 40 Watt Club, just to name a few. Show off the diversity of Athens with tickets to one (or more) of the best shows in town this coming year.
Festivals: Is one concert not enough for your music-loving friend? Why not get them a whole festival of concerts? Athens always has a new festival in town. Get them tickets or merch from any festival in any season.
GIFTS FOR THE DIE-HARD DAWGS FAN
UGA Bookstore: The UGA Bookstore is a great place to find anything and everything you need with the famous Dawgs logo. They have everything from apparel to stuffed animals to dishes for your dining room table. 
University Spirit: University Spirit is a great place to go if you want to give a UGA-themed gift, but also want it to have a personalized touch. They can embroider most apparel or add a monogram to pretty much anything.
Butts-Mehre Heritage Hall Sports Museum: Give the die-hard Dawgs fan in your life the best gift of all – a tour of the infamous Butts-Mehre. Relive the greatest moments in Georgia sports history, recall favorite UGA athletes, see other memorabilia, and keep abreast of current happenings in Bulldog athletics.
The Red Zone and The Clubhouse: Check out these two Athens downtown locations for all things red and black. They carry everything you could ever need all in Georgia theme.
GIFTS FOR THE ART FAN
Good Dirt: Good Dirt is an art studio that has classes for both children and adults so it is a great gift for an art fan of any age. If you want to get your hands dirty, use one of their wheels to create your one-of-a-kind pottery to take home and display at home. You can create and paint your clay, and they will fire it for you in the kiln.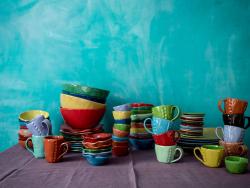 ATHICA: Short for Athens Institute for Contemporary Art, ATHICA is an independent, non-profit gallery solely focused on promoting local art over in the Chase Park Warehouses. ATHICA aims specifically to support contemporary local art and artists, which makes it the first of its kind in the Athens and Northeast Georgia community. Committed to the local art community, they host national and international contemporary artists of all sorts, thus showcasing rotating exhibitions. Take the art lover in your life over to ATHICA, you will not regret it!
R. Wood Studio: Housed in a modest warehouse where you will find artists at work while you shop, R. Wood is a local warehouse studio completely full of beautiful handmade dinnerware and one-of-a-kind pieces that you truly cannot find anywhere else. When you give the gift of R. Wood, you might start someone's collection for years to come.
GIFTS FOR KIDS
Frog Stomp Studio: Located in the Chase Street Warehouses, Frog Stomp is a distinctive children's art studio for ages 2+, even adults are encouraged to come and join the fun, there is no limit. Frog Stomp is an open-studio environment, meaning there are no classes or schedules – come as you please during the week and pay by the hour. Your kids will never want to leave this creative and unique place.
Treehouse Kid and Craft: A children's shop with toys, clothes, and a DIY center, Treehouse offers well-designed and well-made items for kids and crafters! Give the gift of a DIY class for kids or families.
Bear Hollow Zoo: What's a better present than spending time with your family? Take the day off with your kids and check out the zoo in Athens! Come explore native plants and animals from Georgia and keep the kids' wonder and excitement high during this time of the year.
OTHER PLACES THAT ARE JUST TOO AMAZING TO MISS
Avid Bookshop: Athens' favorite community bookshop in Five Points. Their staff seriously loves books and helps Athens love them too. They offer tons of author meet-and-greets, readings, and fun events to explore reading. They also offer eclectic and whimsical gifts and stationery, it is no wonder that Publisher's Weekly named them one of the Top 5 bookshops in the U.S. Don't miss out on this hometown jewel.
Escape the Space: If you think all escape room experiences are the same, you couldn't be more wrong. Locally owned and operated, Escape the Space proves a great experience for first-timers and quiz masters alike. With clever puzzles and elaborate storylines, this is an activity that you will not forget. Now offering a competitive room in which teams race the clock, and each other, Escape the Space is a great gift for those who love to be challenged and want to encounter something new.
Archer Paper: Based in Atlanta at the trendy Ponce City Market is Archer Paper Goods, which has recently made a home here in Downtown Athens. A stationery-lovers dream, Archer boasts an elaborate selection of greeting cards as well as "the pencil shop", and many appealing gifts and knick-knacks. A customer favorite tends to be the ever-popular Aviate hats, as well as some Athens-centric items. 
Winter Wonderlights:Spend the holiday season with family. On select nights throughout November to January, come see the Botanical Garden of Georgia transformed into a beautiful display of Christmas lights. Come experience this winter wonder light show yourself by traveling on our very own Candy Cane Lane.
As you can see, Athens truly has something for every single person on your list this season. Look no further than the local shops and restaurants that Athens has to offer for the perfect gift this holiday season that will keep your friends and family wanting to come to the Classic City for years to come.