https://www.visitathensga.com/blog/post/haunted-athens-a-guide-to-athens-spookiest-destinations/
October is spooky season here in Athens, Georgia. Every southern town worth its salt has a few ghosts in the attic, and October and Halloween is the perfect time to give those ghost stories and legends some special attention. Here's a roundup of haunted places, frights and sights in Athens.
HAUNTED GREEK HOUSES
The University of Georgia is No. 5 on College Candy's list of the Top 10 Most Haunted College Campuses. So it's no surprise that many of UGA's Greek houses and buildings have haunted histories. Check out this 2013 article from The Red and Black to hear more about these Haunted Greek Houses.
PHI MU SORORITY'S HANNA HAMILTON GHOST
The Phi Mu sorority house is said to be haunted by the ghost of Hanna Hamilton who mourns her dead fiancé, according to College Candy. A story from The Red & Black revealed that Hamilton lived next door to the Phi Mu house and saw her fiancé get murdered by a member of his own family. Hamilton eventually went crazy and continues to haunt the house.
You can drive by the Phi Mu house at 250 S. Milledge Ave., Athens, GA 30605.
ALPHA GAMMA DELTA'S SUSIE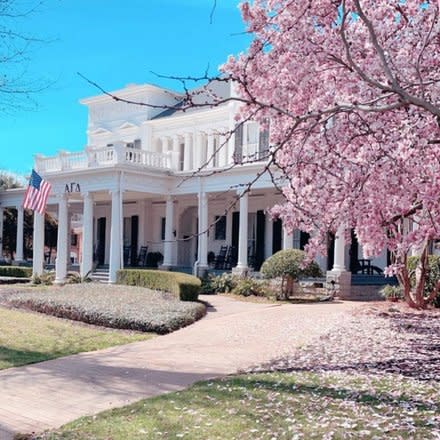 Photo Courtesy of @goellnerphotos 
The Alpha Gamma Delta house at the University of Georgia is nicknamed "the Wedding Cake House," because of its architecture and molding as well as the fact that it was bought as a wedding present. According to local legend, former state senator James Yancey Carithers purchased the home in 1913 for his daughter Susie and her handsome young fiancé. Rumor has it that the house is haunted by Susie, who hung herself in the attic after being stood up on her wedding day. Sorority sisters have reported doors opening and closing on their own, faucets turning on and off, the sound of a chair moving in the attic, and lights flickering with no explanation. The antique piano in the parlor has also been known to play by itself. At heart, "Susie" is a benevolent ghost, and has brought true love and glad tidings to sorority sisters who live in the "Engagement Suite."
You can drive by the Alpha Gamma Delta house at 530 S. Milledge Ave., Athens, GA 30605.
SIGMA PHI EPSILON'S HAUNTED RESIDENT
Next on the list of haunted Greek houses in Athens is the fraternity house of Sigma Phi Epsilon. According to an article by The Red & Black, the owner of the house had a bad day and came home and drowned his daughter in the bathtub and then killed himself. The ghost of his daughter, Tabitha, supposedly haunts the house.
You can drive by the Sigma Phi Epsilon house at 327 S. Milledge Ave., Athens, GA 30605.
DELTA TAU DELTA HOUSE TRAGEDY
In Delta Tau Delta's fraternity house, formerly the Kappa Delta sorority house, there was said to be a girl who was upset about a recent break-up and so she went into the bathroom and hung herself. When Delta Tau Delta took over the house, the bathroom was turned into a bedroom, but she still haunts the house to this day.
You can drive by the Delta Tau Delta house at 1084 Prince Ave., Athens, GA 30606.
HAUNTED CEMETERIES IN ATHENS
THE OCONEE HILL CEMETERY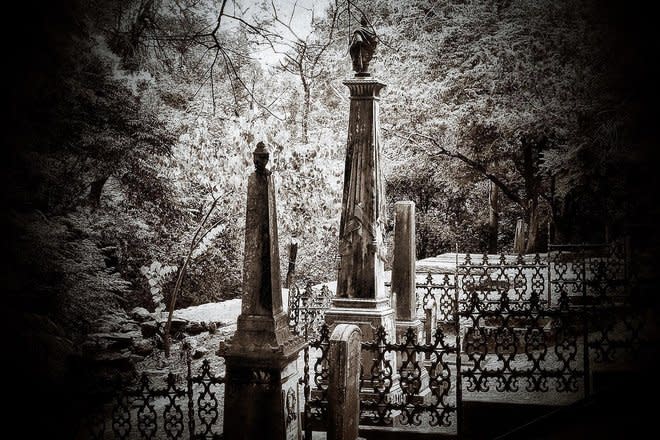 Photo Courtesy of @littlepearl50 
Cemeteries are a window to the past, and a leisurely walk through one of the Athens, Georgia, cemeteries is a wonderful opportunity to learn more about the heritage of the town. It's also no wonder that Athens cemeteries have some longstanding rumors of ghosts and haunts.
The Oconee Hill Cemetery is adjacent to the University of Georgia campus just across the railroad tracks from Sanford Stadium. Some of Athens' most prominent citizens are buried here. Legend has it a farmer drunkenly drove his carriage off of a bridge, and he still drives near his grave under a full moon, according to a 1972 article in The Red and Black.
Visit Oconee Hill Cemetery at 297 Cemetery St., Athens, GA 30605.
OLD ATHENS CEMETERY

Old Athens Cemetery, also referred to as the Jackson Street Cemetery, is the oldest cemetery in Athens and includes Revolutionary War veterans among its permanent residents. The Old Athens Cemetery is on the University of Georgia's Historic North Campus, so definitely make it part of any walking tour. The cemetery is also generally rumored to be haunted. In the 1990s, the cemetery was visited by a team of ghost hunters who did find signs of paranormal activity.
Visit Old Athens Cemetery at 230 S. Jackson St., Athens, GA 30602.
HAUNTED UGA BUILDINGS
JOE BROWN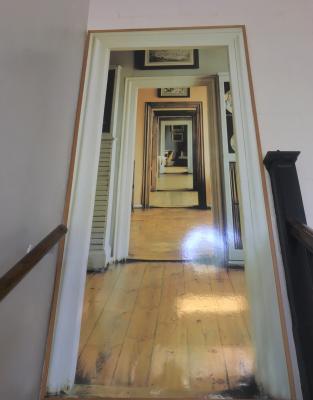 Many UGA students believe that Joe Brown Hall, originally a dormitory in 1932, is haunted. Over Christmas break, a boy committed suicide in his room. According to this Red and Black article, when the students returned from break, the smell of the boy's decaying body led them to his room. The wing had to be sealed off to contain the stench that reeked throughout the dorm. To this day, the wing remains sealed off and one can walk up the staircase that leads to the sealed-off area.
Visit Joe Brown Hall at 595 S Lumpkin St, Athens, GA 30602.
LUSTRAT HOUSE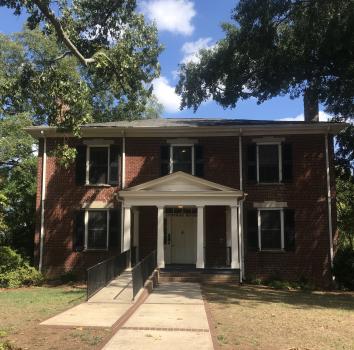 Built in 1847, the Lustrat House was used to house professors. Charles Morris, an English professor and major in the Confederate Army, lived in this house with Professor Lustrat. When Lustrat died, creepy things began to happen. It has been said that a gray mist forms into a Confederate Army Uniform and moves throughout the house. People blamed Lustrat but it was later found that Morris' spirit was returning to the house, according to an article by The Red and Black. Today, the Lustrat House is the office of the University of Georgia's Legal Affairs.
Visit Lustrat House at 230 S Jackson St, Athens, GA 30602.
WADDEL HALL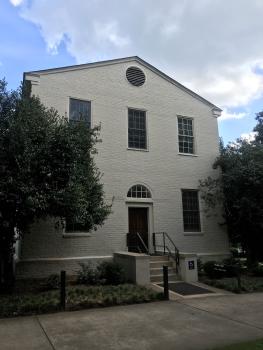 According to the Southern Spirit Guide, you can hear a tragic lovers quarrel in this building from 1821. During WWI, a man left his lover who fell for someone else in his absence. When he returned from the war, he confronted his lover and the quarrel ended in a murder-suicide.
Visit Waddel Hall at 240 S Jackson St, Athens, GA 30602.
CANDLER HALL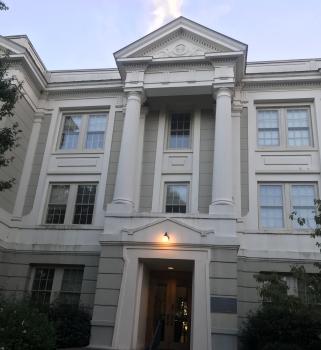 Candler Hall was formerly a dorm and home to 23-year-old senior, William Samuel Lloyd, who lived on the first floor of Candler Hall. After going to dinner with his roommate, they returned to their dorm room and Willie picked up a loaded pistol and spun the pistol around on his finger. While his finger was in the trigger guard, he was shot by the pistol in his lower abdomen and passed away in his dorm room. He was buried in his family's plot at Ebenezer United Methodist Church in Atlanta, but some say he never really left Candler Hall, according to a post from the UGA School of Public and International Affairs.
Visit Candler Hall at 202 Herty Dr., Athens, GA 30602.
FINE ARTS BUILDING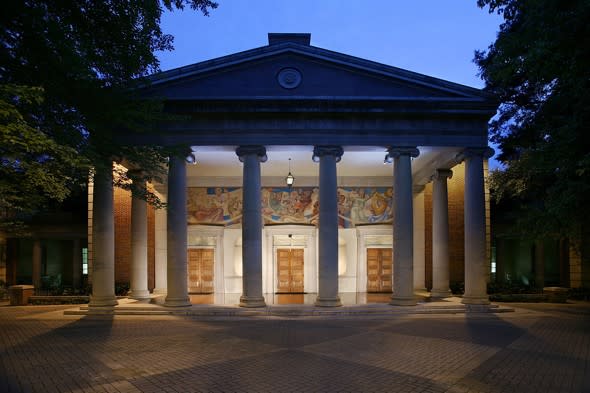 Although there haven't been many recent reports, the Fine Arts Building on the UGA campus has a poltergeist named James O' James. O 'James is said to be an actor's spirit that haunts the building. He is blamed when something goes wrong in production and has been known to cause other disturbances such as loud noises and objects being thrown around.
Visit the Fine Arts Building at 255 Baldwin St., Athens, GA 30602.
DEMOSTHENIAN HALL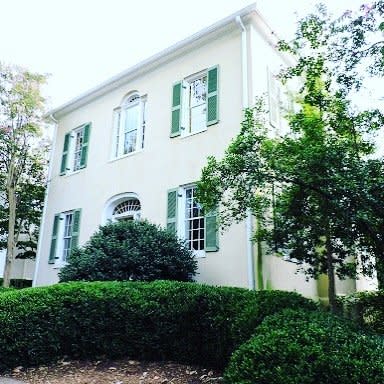 Photo Courtesy of  @dls_uga 
Demosthenian Hall has been haunted by one of its most famous alumni Robert Toombs. Toombs attended UGA in the 1820s and was chosen to be the class speaker for graduation, but Toombs was dishonorably discharged a semester before his graduation for a card-playing vice and could no longer give his speech at graduation. Instead, he returned and gave his speech under a large oak tree now known as the Toombs Oak which was later moved to Demosthenian Hall. It is rumored that the tree was struck by lightning at the exact moment Toombs died and he returned to UGA to pace the halls of the Demosthenian at night.
Visit Demosthenian Hall at 105 Herty Dr., Athens, GA 30602.
MORE HAUNTED PLACES IN ATHENS
WARE-LYNDON HOUSE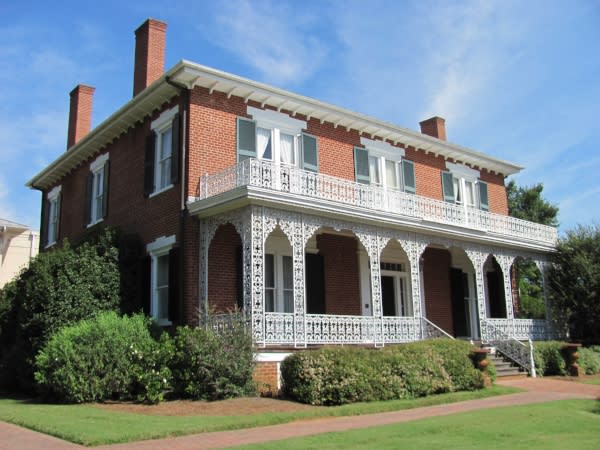 Built in 1845, the Ware-Lyndon House is rumored to be haunted by Dr. Lyndon himself. Those who work in and visit the house have seen a man pacing on the landing. He is always described as wearing black pants, black shoes, a vest, a white shirt, and a tie. This man is assumed to be Dr. Lyndon, a former surgeon who became a general practitioner after suffering through the horrors of the Civil War.
After reading a story in the Athens Banner-Herald, Clarke believes this man could be a man by the name of Lonnie Spalding.
In 1895, a couple, Lonnie and Nellie Spalding, traveled to Athens for Mr. Spalding's lumber business. Mrs. Spalding, the wife, was pregnant at the time and unable to make the railroad and carriage ride to Downtown Athens. So, the couple stopped at Dr. Lyndon's home and he agreed to look after Mrs. Spalding while Mr. Spalding conducted business in Downtown Athens.
On the second day of Mr. Spalding's business trip, Mrs.Spalding went into labor and Dr. Lyndon's assistant rushed Downtown to notify him. When Mr. Spalding found out, he was so excited that he ran out into the street and got hit by a horse-drawn wagon. He fell under a horse and it crushed his head, killing him on the spot. Legend has it that it is Mr. Spalding who paces back and forth on this porch, waiting for the child he will never meet in this lifetime.
Who is the ghost that paces the porch of the Ware-Lyndon house? We'll let you decide.
Visit the Ware-Lyndon House at 293 Hoyt St., Athens, GA 30601.
PARKING LOT ON E. DOUGHERTY ST.
To this day, many people hear weeping as they walk by the parking lot on E. Dougherty street. It's a cry so distraught and heartfelt that 21 police reports have been filed about the incident. It is believed that these cries come from a 16-year-old girl who lived on the property in an antebellum home in the 1860s with her family, the Gilmores.
Gilmore lived in Athens alongside her parents, two older sisters, and her sweetheart. However, her sweetheart went off to fight in the Civil War, and the two vowed to get married upon his return. On one fateful evening in December of 1862, the Athens Banner-Herald reported her sweetheart as a casualty of a battle at Fredricksburg. Gilmore was inconsolable–wailing, screaming, and crying. She locked herself in her room for three days. After three days, she could not take it anymore and hung herself in the oak tree in their yard.
THE GEORGIAN BASEMENT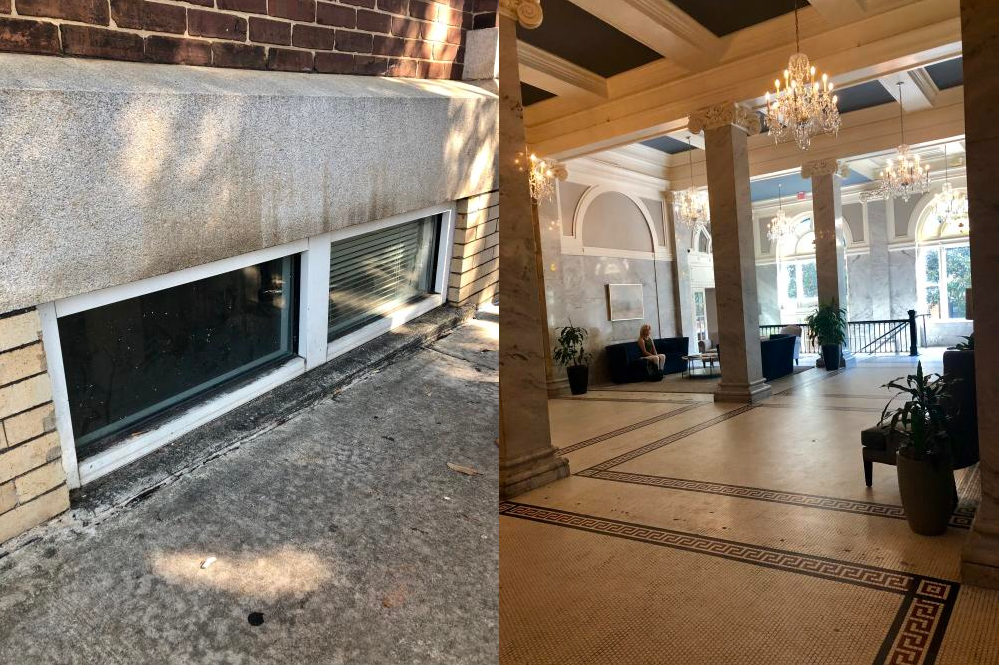 Strange things happen in the basement of the Georgian after dark. The story starts in 1909 when the Georgian, the first luxury hotel in the area, installed its first elevator. It was a big draw for people to come and watch the elevator go up and down. At the time, an elevator operator would make sure a brass gate blocked the elevator shaft. One time, he forgot to close the gate and a child fell down the elevator shaft.
Since then, there have been reports of poltergeists and ghosts responsible for physical disturbances, in the basement that no one can quite explain. No one knows if it is the child or not, but things move around and there are giggling sounds. Boxes in storage units are disheveled, opened and moved around. Yet, nothing is ever taken out of the boxes.
Today, the Georgian is home to apartments, condominiums, an event venue, and South Kitchen restaurant and bar. It is located at 247 E. Washington St., Athens, GA 30601.
THE GRADUATE HOTEL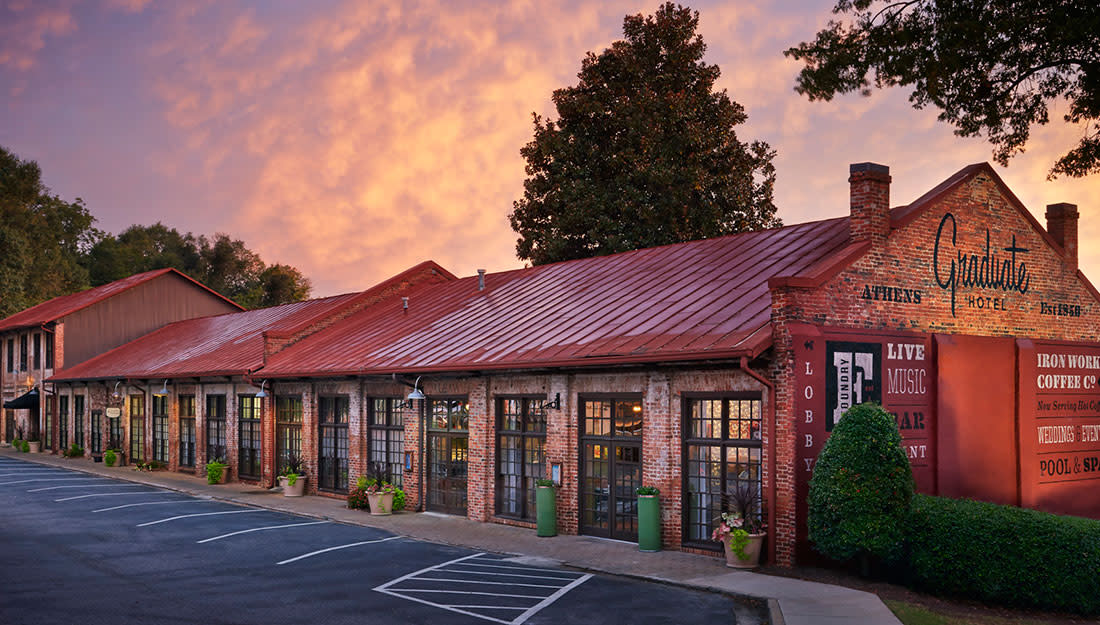 The Graduate has had a long history of closing and reopening. Now it is a stable hotel, venue, and newly a restaurant, but current and former employees have reported strange happenings at the location. According to this Red and Black article, bartenders and other employees have reported seeing "shadow people" towards the end of the night shift and other employees claim that Room 119 is haunted. They receive calls at the front desk from what is supposed to be an empty room and have lights turn on and off randomly.
You can stay in Room 119 at the Graduate Hotel at 295 E. Dougherty St., Athens, GA 30601.
ATHENS HAUNTED HISTORY WALKING TOUR
Local historian, Jeff Clarke offers two-hour, easy-paced, Athens Haunted History Walking Tours. Clarke is a huge crowd pleaser for his knowledge and entertaining delivery of story after story behind the scenes of various Athens landmarks. He's been featured on the Discovery Network, The Travel Channel & GPB/ PBS. Book a tour today! Tours are offered year-round.
For more ideas on spooky, scary, and just plain fun things to do in Athens, GA for Halloween, check out our Halloween Festivities post!