https://www.wusa9.com/article/news/education/report-top-public-schools-in-united-states-maryland-virginia-top-10-wallethub/65-2e547e48-a510-456b-bdde-c0e724d8f4a1
A new Wallethub report revealed some good and bad news for school systems across the DMV.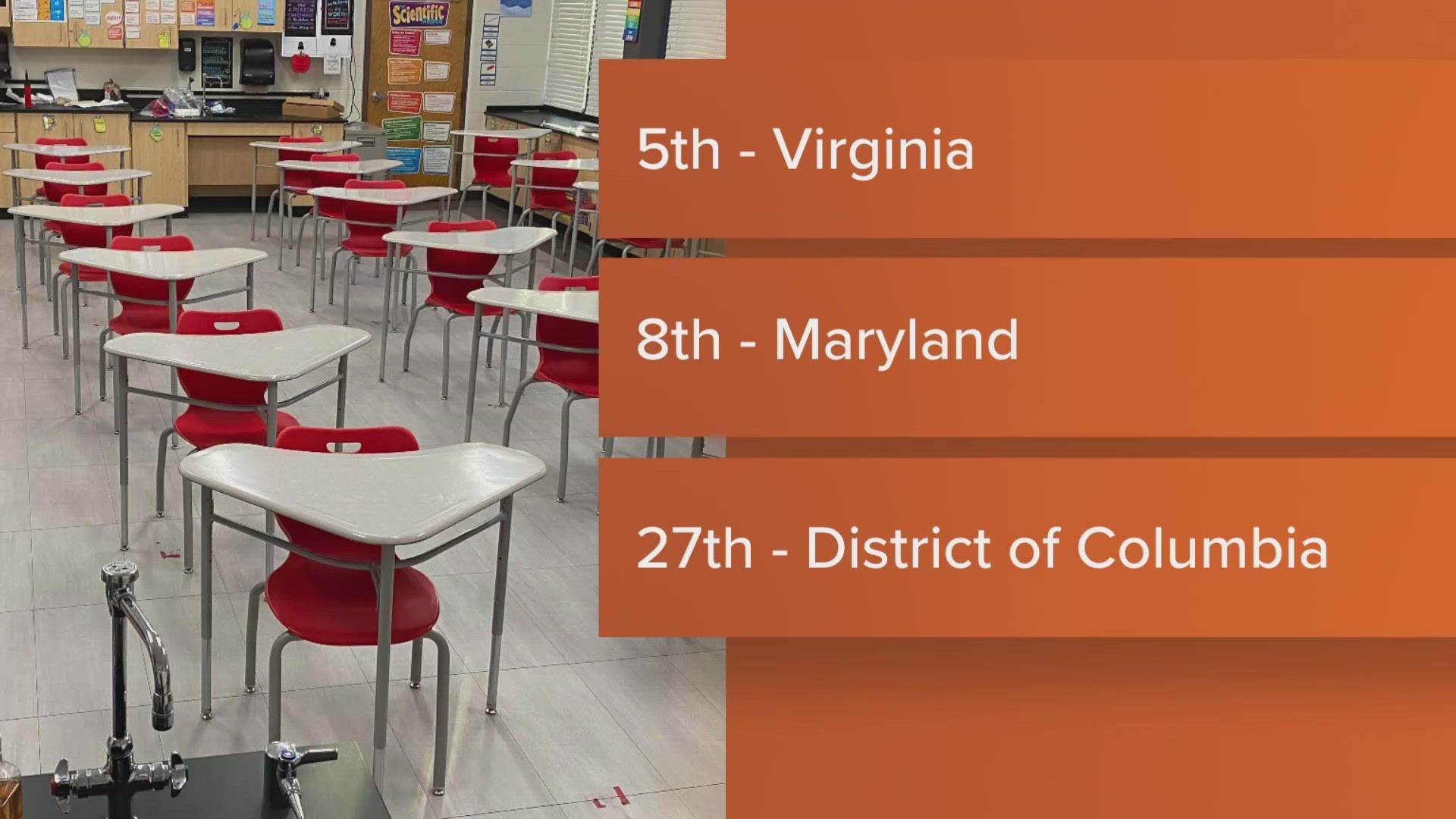 Author: Sarah Fredrickson (WUSA)
Published: 5:59 PM EDT July 25, 2023
Updated: 5:59 PM EDT July 25, 2023
WASHINGTON — A new report focusing on safety and quality education of public school systems across the United States found Virginia students to be faring the best in the DMV.
Wallethub's "States with the Best and Worst School Systems" report revealed that Maryland and Virginia placed in the top 10 list for best school systems in the country, while D.C. ranked just below average. The personal finance website released its 2023 numbers on July 24, rating Massachusetts as the top school system and New Mexico as the worst across all 50 states, plus the District.
The rankings are based on a 32-metric criteria, ranging from standardized test scores to graduation rates. Wallethub also took into account variables outside academic performance, including funding, safety, class size and instructor credentials to compare school systems across the nation. The report placed a significant emphasis (20%) on safety, evaluating the number of school shootings, bullying reports and other data to determine the safety of students in those school systems.
Overall, Virginia public schools ranked fifth on the list, Maryland was rated eighth and D.C. came in at 27.
https://cdn.wallethub.com/wallethub/embed/5335/geochart-school-system-2023.html
The analysis called to the forefront some specific data about DC Public Schools. According to Wallethub, the District has one of the best student-teacher ratios in the country, but it is tied for worst in the nation when it comes to student drop out rates. D.C. also tied for last in median SAT scores, while topping the list for ACT scores. Finally, D.C. had the lowest bullying incident rate across the country.
Angela Farmer, the assistant clinical professor and early honors academy program director for Shackouls Honors College at Mississippi State University, believes success cannot be fairly measured without accounting for the physical and academic needs of all students.
"There are school leaders struggling to make sure that the students are fed and safe before they can even begin to legitimately traverse the curricular needs," Farmer said. "To judge these schools with the same metric is not only unfair, it is unconscionable. Measuring success based on positive trajectory would be a much more balanced approach."